MU-9000X / AP3
Technical Description:
The MU-9000X is an absolute inclinometer utilizing MEMS (micro electro-mechanical systems) technology to sense tilt angles over a full 360° range in 2 axes. The MU-9000X incorporates a number of patent pending breakthroughs to create a new type of inclinometer that is rugged, compact, fast, lightweight and easy to use. The MU-9000X represents leading-edge advancement is MEMS technology and is the most advanced device available for radio control aircraft setup.
Configurations and parameters which are stored at the factory in non-volatile memory include level, resolution, damping / averaging time, and direction. Damping is the amount of time over which angle readings are averaged and has been factory set to 500 milliseconds.
Temperature Ratings:

Operating Temperature
Min
Typ
Max
Units
-40
+25
+85
Degrees C

Supply Voltage Range:

Supply Voltage
Min
Typ
Max
Units
3.85
5
15
Volts
Data:

Position Update Rate
Min
Typ
Max
Units
-
-
640
Hertz

Angular:

0C - 50C, On Axis, 360°
Min
Typ
Max
Units
-0.20
0
0.20
Degrees
Damping:

Damping Time, Fixed
Min
Typ
Max
Units
-
500
-
Milliseconds

Measuring Unit Weight:

Total Weight Including
Clamps & Plates
Min
Typ
Max
Units
-
2.25
-
Ounces
Mechanical:

Measuring Plate
L
W
H
Units
2.9
2.2
.20
Inches

Mechanical:

Measuring Unit Dimensions
Diameter
Height
Units
1.53
.487
Inches
AP3 Display
Technical Description:
The AP3 is a digital LCD readout designed to display the incremental count value of the MU-9000X. The AP3 features a sign indicator for displaying both positive and negative angles. Signals from the MU-9000X are filtered by the AP3 to ensure signal integrity over the entire input frequency range. The Match LED illuminates and relay closure occurs when an encoder count equals the zero angle. Under normal operation the relay closure feature is not needed. However the modeler may want to connect an external light or audio enunciation indicating zero angle has been reached. Please refer to the mechanical drawings and electrical specifications for proper implementation of this feature. Note that any angle reported by the AP3 can be reset to a zero reference angle.
The AP3 Digital Display is powered by the AP12, +12 Volt power supply (included- see below). Optionally, the display unit accepts power from an external battery through a standard 2.1mm DIN circular plug (see FAQ Page for further details). The AP3 Digital Display supplies the +5 VDC power for the MU-9000X.
Whenever the preprogrammed limits of +/- 0.5 degrees are exceeded, the AP3 digital display illuminates a corresponding High or Low LED. This feature is quite useful since it lets the user know when the angle is approaching zero.
The AP3 is constructed of a lightweight high impact polymer case with a clear viewing window. The AP3 display offers 0.5" high digits with blue backlighting. Leading Zero Blanking provides superior readability! (New, October 2006). The AP3 front panel thickness may range up to a maximum of 0.125" thick.
Mechanical Drawings:
Back and Side Views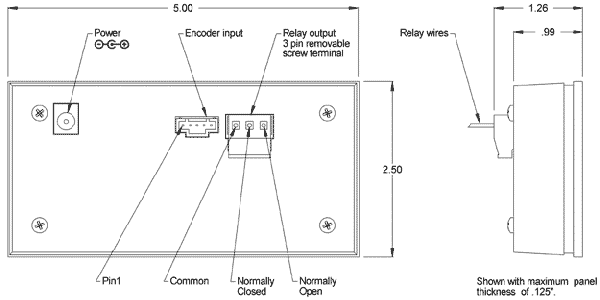 Panel Cutout Drawing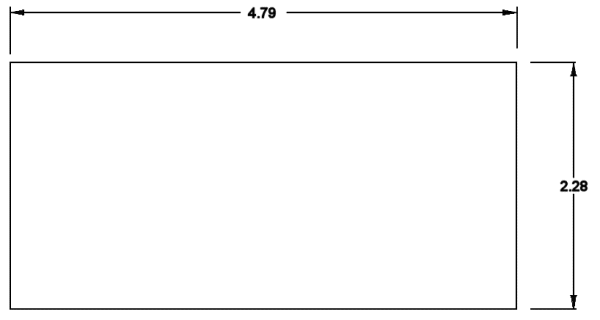 Installation Instructions:
Install in a panel with a thickness of up to 0.125".
Cut a rectangle in the panel: 4.79" wide by 2.28" tall.
Remove the 4 screws from the rear of the AP3
Carefully pull apart the case.
Slide the front section of the display into the panel cutout.
Slide the rear cover over the circuitry from the other side of the panel.
Re-install the screws.
Note: It is very important that care be exercised when opening the case. Do not touch any of the electrical components as static discharge can damage them. Do not force the AP3 into an undersize cutout or over-tighten the screws when reinstalling the case. Damage resulting from improper installation is not covered under the terms of the AeroPerfect™ Warranty.
Electrical Specifications:
Parameter
Min
Typ
Max
Units
Supply Voltage
7.5
-
18
Volts
Supply Current*
-
-
40
mA
Encoder Input Cycle Frequency
-
-
1.2
MHz
Relay Contact Rating***
-
-
3.0
Amps
Relay Switching Rating****

-
-
-
-
125
24
VAC
VDC
Relay Dielectric Stength
500
-
-
VAC
Relay Contact Resistance
-
-
100
uOhms
Enocder Output Voltage**
4.8
5.0
5.2
VDC
Encoder Supply Current
-
-
250
mA
Encoder Low Input
-
0.4
0.8
VDC
Encoder High Input
2.0
5.0
5.75
VDC
* Without MU-9000X attached.
** 100mA load.
*** At rated AC or DV voltage.
**** An external clamp diode should be used when switching inductive loads.
AP-12 Power Supply
Description:
The AP-12 is an 18W regulated switching power supply that provides 12VDC @ 1.5A output. The power supply covers voltage inputs ranging from 90 to 264VAC and 47 to 63Hz which accommodates most international power requirements. Typical efficiency is 70% and output is short circuit protected.
The power supply DC output uses a 2.1mm circular plug (center positive) which is attached to a 48 inch long cable. The power supply plugs directly into a standard 120VAC receptacle or the appropriate AC plug adapter (see below).
Mechanical Drawing: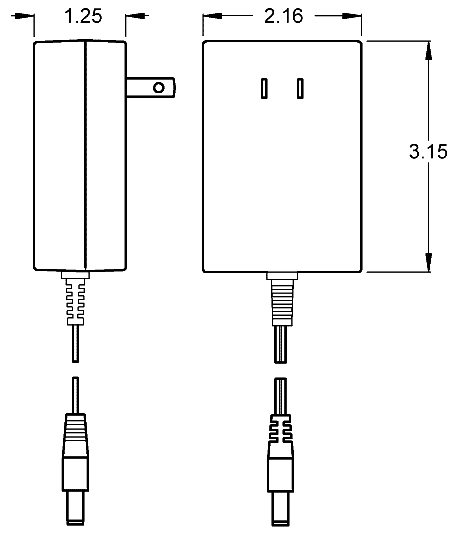 Specifications:
| | |
| --- | --- |
| Input Voltage | 90 to 264VAC |
| Input Frequency | 47 to 63Hz |
| AC Plug Type | 2-Prong, USA Type, non-polarized |
| Output Voltage | 12VDC |
| DC Output Plug | 5.5 x 2.1 x 9.5 mm female barrel, center positive |
| Load Regulation | ±5% |
| Ripple & Noise | 40mV maximum |
| Operating Temperature | 0 to 40°C |
| Storage Temperature | -30 to 80°C |
| Protections | Over voltage, Over current and Short circuit |
| Certification | UL 1950, CB (per EN 60950) |
| EMI | Meets FCC class "B" |
| Size (inches) | 3.15 x 2.16 x 1.26 (WLH) |
Photograph: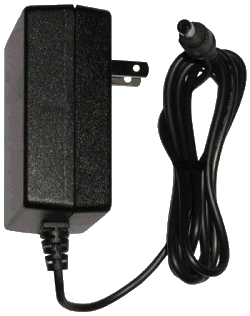 AC Adapter Plugs Available from AeroPerfect™:
(European to U.S. Plug Adapter)

European Side

American (US) Side
(Australian to U.S. Plug Adapter)

Australian Side

American (US) Side
© 2008, Bell Electronic Technologies All Rights Reserved