Setting A Zero Reference

Easy Measurement Setup

Measuring Up Deflection
The AeroPerfect™ Digital Incidence and Control Throw Meter makes setting up your aileron throws a cinch! In the following three photographs, the aileron control throws are setup for equal travel in both directions (+/- 22.35 degrees). The AeroPerfect™ Meter makes precision setting of aileron differential a breeze! If your aircraft's control throws are specified in inches or millimeters, these numbers are easily converted to degrees here. Also, the new AeroPerfect™ MU-9000X USB has a built in utility for converting from inches to millimeters!
Setting A Zero Reference

Measuring Up Deflection

Measuring Down Deflection
Precision 3D Measurement

No More Guess Work!
Make sure your aircraft is held so it can't move around. You can make your own cradle or there are a number of commercially available cradles you can use. Adjust your aircraft's position so that the aileron's hinge line is reasonably level (eyeball is fine).
Step 1:
Adjust your aileron linkages as you normally would. Move the aileron to its neutral position. You can either employ a method of mechanically clamping the aileron at neutral or use your radio and servo to hold it in position.
Step 2:
Either hand hold or clamp the MU-1800-I to the aileron so that the edge of the measuring plate is near the hinge line and parallel to it. Place your AP3 Digital Display where you can view it while you make control throw adjustments. Simply push the RESET button on the AP3 Digital Display to set a zero reference angle.
Step 3:
Push your radio's stick fully to the left and then fully to the right while using your AeroPerfect™ to measure the control throw angles. Obtain the desired control throw angles either by adjusting your radio's EPA's, or mechanically adjusting your linkages. If you plan to program Hitec Digital Servos to obtain your control throws, please see the Hitec Digital Servo Programming Page.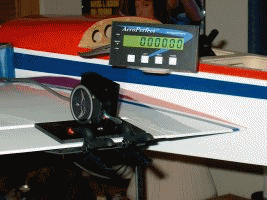 (Step 4)
Since it "remembers" the zero from the first aileron, matching control throws for the second aileron is easy with the AeroPerfect™ ! Being careful to not disturb the position of your aircraft, hand hold or clamp the MU-1800-I to the other aileron and adjust your linkages until the AP3 reads zero. (Make sure you orient the MU-1800-I in the same direction as with the first aileron- in other words, don't rotate the MU-1800-I 180 degrees with respect to the hinge line). Repeat step 3.
HAPPY FLYING!
© 2004 - 2007, Bell Electronic Technologies All Rights Reserved